FARM-TO-FORK FESTIVAL RETURNS
The Farm-to-Fork capital of the world is bringing back a number of events this Fall.  After being forced to cancel last year due to the COVID-19 pandemic, the Farm-to-Fork Festival announced yesterday the mile-and-a-half strip of local vendors is coming to Capitol Mall September 17th-and-18th. 
Also, the Legends of Wine event and Tower Bridge Dinner will take place earlier in the month, on September 9th and 12th respectively.  It will be the first time in Farm-to-Fork history the three events will fall on different weekends.
SACRAMENTO REGION WATER USAGE CUTBACK REQUESTED
Local water experts are asking Sacramento area residents to cut back on water usage.  The Sacramento Regional Water Authority released a statement yesterday, asking everyone in the region to scale back water usage by ten-percent, hoping to avoid mandates. 
This comes just days after Governor Newsom declared that most of California is in a drought, with Folsom Lake already lower than 2015 levels during the state's last major drought.  Additionally, the Sierra Nevada snowmelt originally expected to replenish Northern California's water supply was largely absorbed by ultra-dry soil
LIVE OAK COMMUNITY CLEAN UP DAY TOMORROW
It's Community Clean Up Day tomorrow in Live Oak, specifically a free dump day courtesy of Recology Yuba-Sutter. Everything from hazardous waste such as old electronics to old furniture, scrap metal and more can be unloaded at 9633 N Street, from 8:00 until noon.
An online flier adds that the event is for Live Oak residents only and you are also responsible for your own loading and unloading. The Live Oak Community Clean Up Day is free, masks are required and social distancing will be in effect.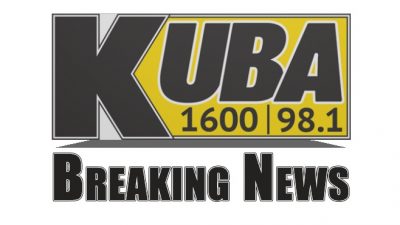 IDENTITY OF PEDESTRIAN KILLED ON HWY 70 NEAR McGOWAN RELEASED
The Yuba County Coroner has released the identity of the pedestrian killed in a predawn collision last Friday on Highway 70 near the McGowan Parkway over-crossing: 38-year-old Rebecca Coronado-Obregon of Marysville was walking south on an unlit portion of the highway and hit by a motorist driving at the posted speed limit, according to the CHP collision report.
Alcohol and / or drugs are not considered factors according to investigators.
CAUSE OF QUAIL FIRE RELEASED
Cal Fire / Nevada – Yuba – Placer Unit investigators have determined and released the cause of Wednesday afternoon's 35 acre fire in Browns valley: "the grinding & welding of metal fencing on dry grass."
The person or persons responsible have not been identified publicly, nor is it indicated if any punishment is being rendered of the specific location of the fire's point of origin.
No one was injured and no structures were impacted by the blaze, although residents in the Peoria Road & Quail Run areas were evacuated from their homes for a couple of hours.
MURDER ARREST IN WHEATLAND, PIPE BOMBS FOUND NEAR CRIME SCENE
The Wheatland Police Department received a 911 call just before 1:00 yesterday morning reporting a shooting in the 200 block of G Street, where responding officers found 55-year-old Ralph Mendez shot. Life-saving measures were unsuccessful. Investigators determined 41-year-old Wheatland resident Rory Banks was the shooting suspect "and taken into custody without incident" according to the Wheatland Police Department's Facebook page. The weapon was recovered at the scene and the police chief issued a statement saying "This appears an isolated incident and there in not a threat to our community."
CBS13 also reports police found two pipe bombs while serving a warrant at a McCurry Street residence near where the shooting occurred. Local residents were temporarily evacuated. CBS13 also reports the victim was a registered sex offender on the Megan's Law website.
The Yuba County Sheriff's office and The Department of Justice are assisting with the ongoing investigation.
BROWNS VALLEY BLAZE PROMPTS MANDATORY EVACUATIONS YESTERDAY
A Cal Fire Public Information officer reports wildland vegetation "is in July conditions as far as moisture" and, obviously a couple of months early. Browns Valley residents in the Quail Run & Peoria Road areas received a real life demonstration of our dangerously dry early-season conditions as mandatory evacuation orders were issued due to a wildfire. Crews responded shortly after noon to a blaze estimated at around 3 acres, which grew to an estimated 25 acres within 45 minutes.
Ultimately Cal Fire's air & ground attack contained the Quail Fire at 35 acres by a quarter, and all mandatory evacuations were lifted. No one was injured and no structures were impacted.
'FUN IN THE PARK' EVENT SATURDAY RAISING FUNDS FOR SUTTER YOUTH
With spring sunshine and lower temperature forecast, the upcoming weekend seems perfect for 'Fun in the Park' – And that is exactly what the Sutter Youth Organization has planed. The public is invited to the event, raising funds for Sutter youth, Saturday starting at noon, for the opening of the Morehead family Community Pool on Butte House Road.
The Appeal-Democrat reports food, drink and even barbecue will be served, and the event also include boat races and open swimming.
INMATE RELEASED EARLY IN COURT AGAIN
A man charged in connection to a 2017 death of a CHP officer, is again facing trial in Sacramento for allegedly threatening a relative with a ghost gun.  Alberto Morales Quiroz was sentenced to 10-years in state prison for leading a chase with CHP officers on a stolen motorcycle, in which an officer suffered a fatal crash. 
Earlier this month, after being released early in July 2020 due to COVID-19 capacity goals, Quiroz was arrested on suspicion of assaulting a family member with an illegal ghost gun.  A preliminary hearing was held in a Sacramento County Superior Court yesterday, and Quiroz's next hearing is scheduled for June 2nd.